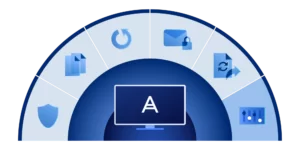 Acronis Cyber Protect Cloud
Backup and protect digital assets on the cloud against ransomware & malware and accidental erasure.
Advanced Email Security
Block any email-borne threat – including phishing, spam, malware, business email compromise (BEC) advanced persistent threats (APTs) and zero-days even before they reach your Google Workspace, Microsoft 365, or Open-Xchange mailboxes.
Advanced Security Pack
Extend the endpoint protection capabilities of ACronis Cyber Protect Cloud with the Advanced Security pack and lower the cyber risk of your clients' systems via features like exploit prevention, anti-malware detection, URL filtering, and improved detection rates.
Advanced Backup Pack
More than simple backup!
Advanced Cloud Backup Pack provides an integrated cyber protection to your clients with advanced backup capabilities. Continuous data protection, Scheduled backup reports with Data protection map for high visibility.
Advanced File Share
The Advanced File Sync and Share pack extension available can help you improve their teams' productivity and collaboration with secure-file sharing capabilities with fully remote notarization, verification, online signing, and other features.
Embedded eSigning to help your clients easily share data and file

Remote file notarization to ensure data authenticity and security

HIPAA-compliant file sync and share service with encryption both at rest and in-transit

Advanced Management
With automatic patch and protection management, focus more on delivering innovation and less on administration chores. Further streamline your strategy with capabilities like report scheduling, software inventory collection, and drive health monitoring.
Integrated and automated patch management with support for 200+ applications

Save time and effort when managing software with software inventory collection

Fail safe patching to quickly recover from faulty patches

Scheduled renewal reports.
Advanced Disaster Recovery
Instant recovery on Cloud VM with the flip of a switch. Recover your workloads whenever a disaster strikes.
Ensure easy and seamless automated failover of the production environment

Provide quick connections with point-to-site or site-to-site connectivity

IPsec Multisite VPN support and L2 site-to-site open VPN

Multiple templates to help you setup disaster recovery plans for your clients

Availability of custom DNS configuration
Integrated backup and next-generation AI-based antivirus, anti-malware, and endpoint protection in one solution with centralized management
A 360-degree cybersecurity solution for businesses with the industry's first-ever integration of backup and cybersecurity with access to advanced cyber protection features
Get Started Experts' take on Acronis Cyber Protect Cloud?
This is what the industry leaders have to say about this product.
IDC Says…
"ACronis is among the companies on the forefront for integrated data protection and cyber protection. We believe that ACronis Cyber Protect is among the most comprehensive attempts to provide data protection and cybersecurity to date." – Phil Goodwin, Research Director, Infrastructure Systems, Platforms and Technologies Group, IDC.
AV-Test.org Says…
AV-Test.org is a respected German security institute known for putting anti-malware solutions to test. AV-Test ran a pre-release version of ACronis Cyber Protect Cloud against their usual testing routine for anti-virus business solutions, which looks at protection, performance, and usability. It scored perfectly with a verified 100% detection rate.
SYNAPSYS Says...
We are exited to see ACronis Cyber Protect Cloud launch. It's a great solution. Having a unified product with a single agent and interface will make a big difference in our market. It is a game changer.
Automatic data replication
$59.99
5 devices per month
Anti-malware and antivirus
$14.99
per server per month
Continuous Data protection
File & Account level restore
Unlimited Retention points